The Target Translation Consortium (TTC) brings together the resources and expertise of Singapore's public research entities to facilitate the preclinical validation of putative drug targets arising from publicly-funded research.
The TTC aims to inform investigators earlier and better about the drug development potential of their proposed target, by helping investigators to:
Establish a stronger, causal link between the target and disease pathogenesis
Demonstrate that target modulation can lead to the desired therapeutic effect
This enhances opportunities for future funding or partnership opportunities around these targets and increases the chances for success in drug discovery.
From 2021-2025, the TTC will be integrated with the Singapore Therapeutics Development Review (STDR) to provide streamlined and coordinated support to investigators with promising drug discovery projects.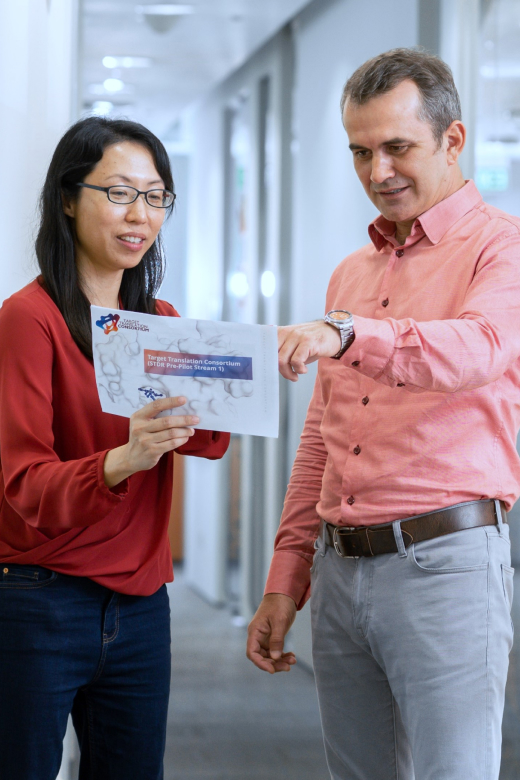 Informing Early, Informing Better
Target validation provides critical information about whether a putative target is viable for therapeutic development. Watch our video below to understand how preclinical target validation can increase your chances of success in drug discovery.
View our video series here to understand other key considerations in drug discovery, shared by practitioners in the field.
The importance of target validation in drug discovery
Defining the unmet need
Preclinical target validation: how not to be wrong (William G. Kaelin's lecture, shared from NIH VideoCast)
In-vitro biochemical and biophysical assays for target validation•
Cell-based reporter assays for target validation
Small molecule drug discovery: a Medicinal Chemist's perspective
Discovery and development of bio-therapeutics
Considerations in the development of cell therapy
In-vivo models in drug development