EDDC's Biomarker team analysing samples from ETC-159 trial
A made-in-Singapore cancer drug, ETC-159, has advanced into the dose expansion portion of its Phase 1B clinical trial. The Phase 1B dose expansion study tests the preliminary efficacy and safety of ETC-159 in a subset of genetically defined patients with microsatellite stable (MSS)1 cancers. MSS tumours have few genetic aberrations and patients are usually unresponsive to immunotherapy like pembrolizumab, a checkpoint inhibitor used in the treatment of many cancers. To date, the first portion of the Phase 1B trial, the dose escalation study, has been completed and a safe dose of ETC-159 in combination with pembrolizumab has been defined. ETC-159 was previously shown to be safe as a monotherapy in its Phase 1A trial.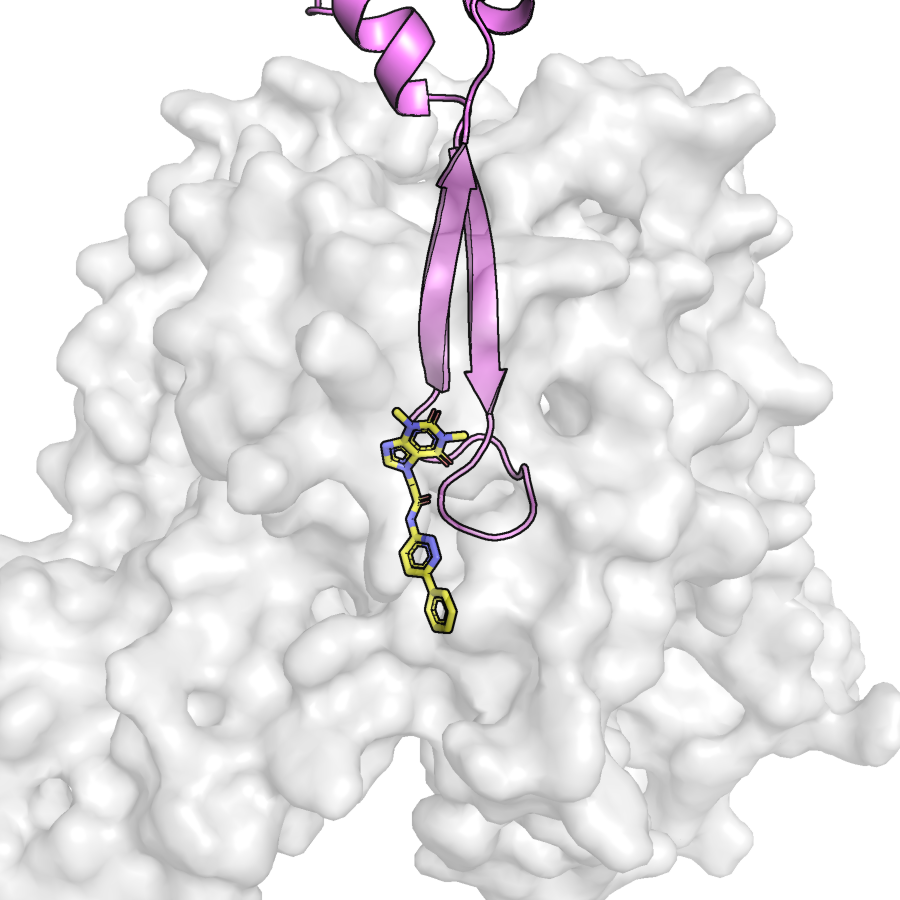 A mechanistic view of how the binding of ETC-159 (yellow-blue) would inhibit a process in the Wnt pathway [palmitoylation of Wnt (purple) by Porcupine (white)]
ETC-159 was jointly developed by Duke-NUS Medical School (Duke-NUS) and the Experimental Drug Development Centre (EDDC), a national platform for drug discovery and development hosted by the Agency for Science, Technology and Research (A*STAR). This small molecule drug targets a range of solid tumours including colorectal, endometrial, ovarian and pancreatic cancers, which contribute to a significant fraction of Singapore's cancer burden. A subset of these cancers are caused by hyperactivity in a cell signalling pathway known as the Wnt pathway.
The Phase 1B dose expansion study will have two groups.
In one group, ETC-159 will be tested as a monotherapy in MSS colorectal cancer (CRC) patients who have a specific genetic mutation, called "RSPO Fusion". This mutation is present in about 8% of CRC patients and it activates the Wnt pathway, making these patients sensitive to Wnt inhibitors like ETC-159. A diagnostic test designed by EDDC was manufactured and clinically validated at POLARIS @ A*STAR's Genome Institute of Singapore (GIS). Supported by the Diagnostics Development (DxD) Hub, this test will be used to select colorectal cancer patients with RSPO Fusion to participate in the trial. RNA Extraction from Formalin-Fixed Paraffin-Embedded (FFPE)2  tissue samples followed by testing of Fusion genes will be done at POLARIS @ GIS.
In the second dose expansion patient group, ETC-159 will be tested in combination with the immune checkpoint inhibitor pembrolizumab in MSS colorectal cancer patients who do not have RSPO fusions, as well as in patients with MSS endometrial and MSS ovarian cancers. The ability of ETC-159 to sensitise MSS cancers to pembrolizumab will be investigated. The combination of ETC-159 and pembrolizumab has been demonstrated to be synergistic in preclinical studies.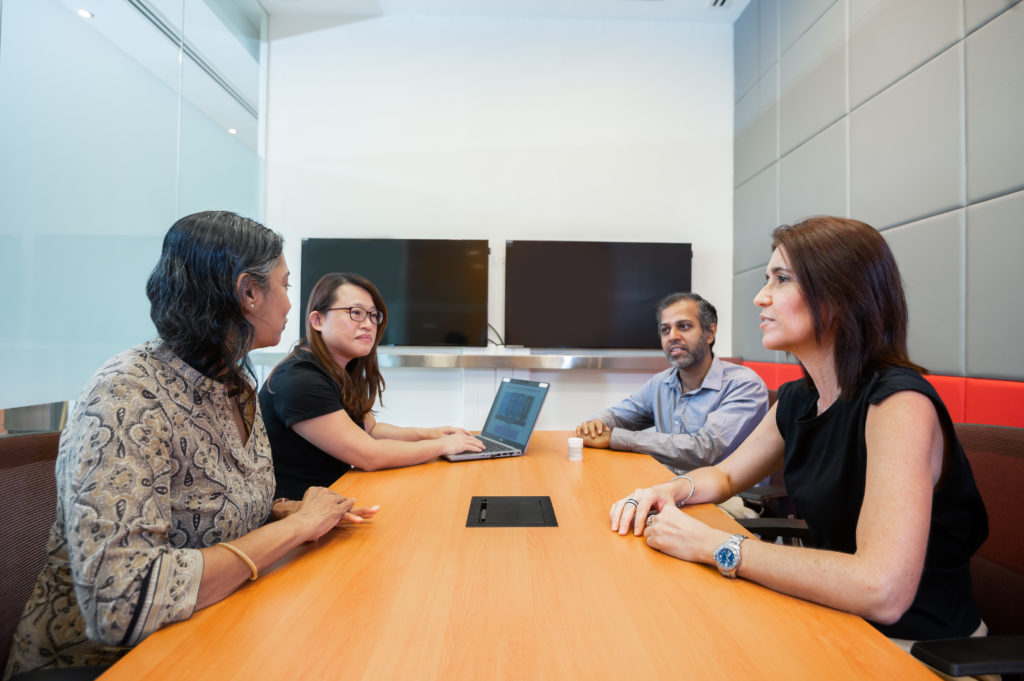 EDDC Development team discussing the ETC-159 dose expansion study
As in earlier trials, investigators will track the biological effect of ETC-159, also known as its pharmacodynamics, in patients participating in the dose expansion study. The pharmacodynamics of a drug can be measured from tumour samples taken through biopsies, such as during surgery or an invasive procedure. EDDC established that it will also be possible to measure the pharmacodynamics of the drug through monitoring the levels of Axin2 mRNA in hair follicles. Axin2 is a downstream protein in the Wnt pathway, and its levels are reduced when ETC-159 effectively acts on the pathway. This minimally invasive measurement of ETC-159's biological effect will allow investigators to understand how well the drug is working in patients over the course of study.
Patients for the dose expansion study will come from two sites in Singapore as well as seven sites in the United States. The trial is expected to be completed by 2024.
1 The DNA in our cells contain sections of short repetitive sequences known as "microsatellites". Our DNA is considered stable if the number of microsatellite repeats is consistent in all the cells in our body – a state referred to as "microsatellite stable" (MSS). However, cancer patients with MSS tumours are unfortunately unresponsive to immunotherapy, an emerging form of cancer treatment that enhances or weakens the functions of various immune cells in our body to generate anti-tumour effects. For example, about 85% of colorectal cancer patients have MSS tumours and have no approved treatment option with immunotherapy.

2 A technique used to preserve and prepare tissue specimens (e.g.: samples from cancer biopsies)for examination, research or drug/diagnostic development.
For media queries and clarifications, please contact:
Nicolette Ng
Assistant Head, Corporate Communications
Agency for Science, Technology and Research
Tel: +65 9236 2220
Email: nicolette_ng@hq.a-star.edu.sg
ABOUT THE EXPERIMENTAL DRUG DEVELOPMENT CENTRE
The Experimental Drug Development Centre (EDDC) is Singapore's national platform for drug discovery and development, formed from the integration of the Experimental Therapeutics Centre (ETC), Drug, Discovery and Development (D3), and Experimental Biotherapeutics Centre (EBC) in 2019. EDDC aims to develop therapeutics and diagnostics that save and improve the lives of patients in Singapore, Asia and around the world. EDDC works collaboratively with public sector and industry partners to translate the great science arising from Singapore's biomedical and clinical sciences R&D into innovative healthcare solutions.
ABOUT DUKE-NUS MEDICAL SCHOOL
Duke-NUS is Singapore's flagship graduate entry medical school, established in 2005 with a strategic, government-led partnership between two world-class institutions: Duke University School of Medicine and the National University of Singapore (NUS). Through an innovative curriculum, students at Duke-NUS are nurtured to become multi-faceted 'Clinicians Plus' poised to steer the healthcare and biomedical ecosystem in Singapore and beyond. A leader in ground-breaking research and translational innovation, Duke-NUS has gained international renown through its five signature research programmes and nine centres. The enduring impact of its discoveries is amplified by its successful Academic Medicine partnership with Singapore Health Services (SingHealth), Singapore's largest healthcare group. This strategic alliance has spawned 15 Academic Clinical Programmes, which harness multi-disciplinary research and education to transform medicine and improve lives.
For more information, please visit www.duke-nus.edu.sg.
ABOUT THE GENOME INSTITUTE OF SINGAPORE
The Genome Institute of Singapore (GIS) is an institute of the Agency for Science, Technology and Research (A*STAR). It has a global vision that seeks to use genomic sciences to achieve extraordinary improvements in human health and public prosperity. Established in 2000 as a centre for genomic discovery, the GIS will pursue the integration of technology, genetics and biology towards academic, economic and societal impact.
The key research areas at the GIS include Human Genetics, Infectious Diseases, Cancer Therapeutics and Stratified Oncology, Stem Cell and Regenerative Biology, Cancer Stem Cell Biology, Computational and Systems Biology, and Translational Research. The genomics infrastructure at the GIS is utilised to train new scientific talent, to function as a bridge for academic and industrial research, and to explore scientific questions of high impact.
For more information about GIS, please visit www.a-star.edu.sg/gis.
ABOUT POLARIS@GIS AND THE POLARIS RSPO GENE FUSION TEST
POLARIS@GIS was established by A*STAR in 2013 to pilot the application of clinical genomics in the treatment and diagnosis of medical diseases in Singapore and the region. POLARIS clinical laboratory achieves the College of American Pathologists (CAP) accreditation. The CAP Laboratory Accreditation Program certifies the entire spectrum of laboratory test disciplines with the most rigorous requirements, and is recognised as the gold standard in Laboratory Accreditation, assuring that patients receive the highest standard of care in laboratory testing. POLARIS has also been licensed under the Private Hospitals & Medical Clinics (PHMC) Act, to meet the regulatory requirements in Singapore.
More About the POLARIS RSPO Gene Fusion Test
The POLARIS RSPO Gene Fusion Test for colorectal cancer is a Laboratory-Developed Test (LDT) developed by POLARIS@GIS for the qualitative detection of gene fusions involving either RSPO2 or RSPO3 by multiplex reverse transcription real-time quantitative polymerase chain reaction (RT-qPCR) in formalin-fixed paraffin-embedded (FFPE) or fresh (frozen) colorectal cancer (CRC) tissue. Presence of one of these fusions in microsatellite stable (MSS) CRC patients was shown to be a positive predictive biomarker for ETC-159 treatment.
The Test was developed and validated in accordance with the College of American Pathologists (CAP) guidelines and in agreement with US FDA, within the CAP-accredited POLARIS@GIS.
ABOUT THE DIAGNOSTICS DEVELOPMENT HUB
The Diagnostics Development Hub (DxD Hub) is a national initiative in Singapore, hosted by the Agency for Science, Technology and Research (A*STAR). DxD Hub aims to accelerate the transformation of innovations into clinically validated diagnostic devices that are ready for market adoption. Through impactful products, empowering local enterprises and anchoring global companies in Singapore, DxD Hub contributes to the development of an effective diagnostic devices ecosystem in Singapore.