EBC-129 is the first made-in-Singapore antibody-drug conjugate (ADC) to enter clinical development. It is able to selectively target cancer cells across a range of solid tumours.
The Phase 1 study aims to assess the safety and tolerability of EBC-129 in cancer patients, and subsequently evaluate its anti-cancer activity in different types of solid tumours.
The ADC and the test used for patient selection were discovered and developed collaboratively by A*STAR's Bioprocessing Technology Institute and the Institute for Molecular and Cell Biology, the Experimental Drug Development Centre, and the National Cancer Centre Singapore.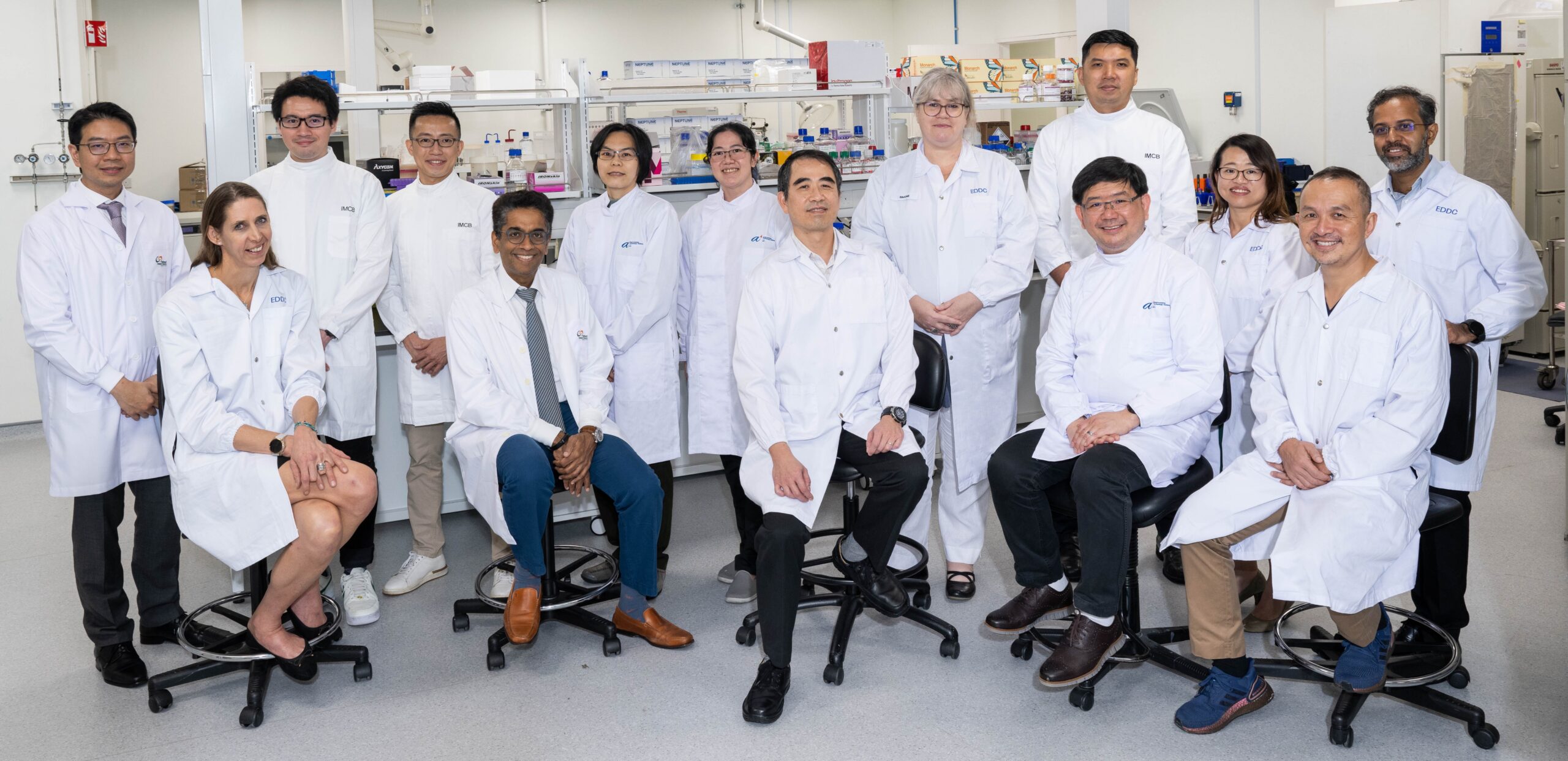 Representatives from the multi-institutional teams involved in the development of EBC-129 and its patient selection test: (from left to right) Dr Daniel TAN (NCCS), Dr Veronica DIERMAYR (EDDC), Mr NEO Zhen Wei (IMCB), Mr Jeffrey LIM (IMCB), Dr Gopal IYER (NCCS), Dr LEUNG Hau Wan (BTI), Ms GOH Ting Hwee (BTI), Dr Matthew NG (NCCS), Dr Simone DORFMUELLER (EDDC), Dr Joe YEONG (IMCB), Dr Andre CHOO (BTI), Ms LEE Yock Ann (EDDC), Dr YONG Wei Peng (NCIS), Dr Venkateshan SRIRANGAM (EDDC)
The Experimental Drug Development Centre (EDDC), Singapore's national platform for drug discovery and development, is pleased to share that a first patient has been dosed at the National Cancer Centre Singapore (NCCS) in the first-in-human trial of EBC-129.


This study is a multi-centre Phase 1 trial designed to evaluate the safety and tolerability of EBC-129 in patients with metastatic solid tumours that cannot be treated surgically. The trial's key objectives are to determine the maximum tolerated dose and the recommended Phase 2 dose of EBC-129, as well as to evaluate its pharmacokinetics and preliminary efficacy. In Singapore, the study is being run at the NCCS and National University Hospital, through the National University Cancer Institute Singapore (NCIS).


EBC-129 was also cleared by the U.S. Food and Drug Administration (FDA) for entry into first-in-human studies. The trial will be initiated in selected US hospitals, potentially including the University of Texas MD Anderson Cancer Centre and the University of Colorado Cancer Centre.


"We are excited to reach this significant milestone in EBC-129's clinical development programme, and we deeply appreciate the strong support of our clinical collaborators, NCCS and NCIS, here in Singapore," said Prof Damian O'Connell, EDDC's Chief Executive Officer. "We will continue to work closely with all investigators to progress this study, and bring us collectively closer to our goal of providing an effective treatment option for patients who have exhausted standard therapies."
EBC-129 binds to a specific glycosylation site that is conserved on both carcinoembryonic antigen-related cell adhesion molecules (CEACAM) 5 and 6, which are cell surface receptors over-expressed in cancer cells. The payload used in EBC-129 is monomethyl auristatin E (MMAE), which has been extensively tested and approved for clinical use in other marketed ADCs. As such, development will be fast-tracked as the side effects, which are mostly mediated by the payload, can be predicted in advance and the payload's effective dose is known.


For more information on EBC-129 and its development, please refer to https://www.eddc.sg/first-made-in-singapore-antibody-drug-conjugate-adc-approved-to-enter-clinical-trials/