These compounds target the SARS-CoV-2 main protease and are active against other coronaviruses
Lead series of proprietary 3CLpro inhibitors is available for out-licensing or co-development to expedite development and make an oral drug available to patients.
As Singapore transitions "from pandemic to endemic", its scientists are still working hard to find solutions to tackle COVID-19.
While vaccines have been rapidly developed and rolled out, there remains a dearth of small molecule treatment options that are designed specifically to combat COVID19. These treatments are critical for those who are unresponsive to vaccines, cannot be vaccinated, or are unable to access vaccines.
Currently, the only treatment for COVID19 approved by the US FDA is Remdesivir, a small molecule (chemical-based) drug that was originally developed as a therapy for Ebola. However, Remdesivir has to be administered via intravenous infusion, and can therefore only be used in a hospital setting.
A much more ideal drug for COVID-19 and other pandemics should be in the form of a widely available pill, which a doctor can prescribe for patients to take orally at home. It would be like Tamiflu, an antiviral drug that was developed for influenza and subsequently procured by governments in response to the first SARS outbreak in 2003.
The Experimental Drug Development Centre (EDDC), a national platform in Singapore hosted by the Agency for Science, Technology and Research (A*STAR), is making headway in the endeavour to develop such a drug. It has recently discovered several small molecules that have shown to be effective against SARS-CoV-2 and other coronavirus strains.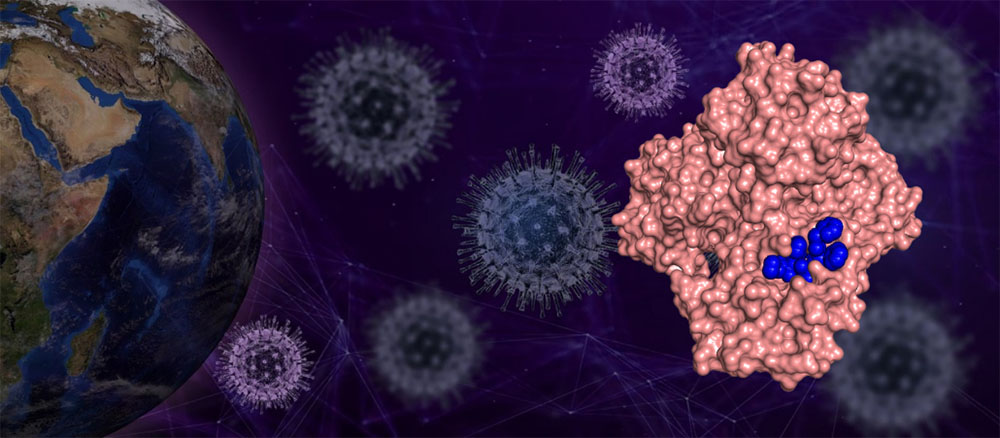 Molecular model of inhibitor binding to key SARS-CoV-2 protein target
PROTEASE INHIBITORS THAT CAN STOP VIRAL REPLICATION
Known as protease inhibitors, EDDC's novel small molecule drug candidates target SARS-CoV-2 directly. Specifically, the compounds target the virus's main protease (also known as 3CL protease or 3CLpro for short).
What makes the 3CLpro an attractive target for therapy against COVID-19? It is a virally encoded protein that is critical for the virus to replicate. It has no close human analogues, and thus can be targeted without the risk of blocking or affecting other human proteins. By inhibiting 3CLpro, EDDC's compounds prevent the virus from performing the biological processes it needs to reproduce itself.
Moreover, the 3CLpro structure exists across a broad spectrum of coronaviruses. This means that a 3CLpro inhibitor can also potentially act on other coronaviruses, presenting the exciting possibility for its use in tackling future coronavirus pandemics.
EDDC is collaborating with Singapore's DSO National Laboratories to validate these 3CLpro inhibitors with live virus experiments in DSO's BioSafety Level 3 facility. Results have shown that the compounds are highly potent and selective. They are also active against a panel of other coronaviruses. In these studies, EDDC's 3CLpro inhibitors also compared favourably against other competing drug candidates under development for the same target.
THE ROAD AHEAD FOR EDDC'S NOVEL 3CL PROTEASE INHIBITORS
Currently, clinicians are repurposing existing drugs meant for other diseases to treat COVID-19 patients. However, these repurposed drugs have limitations in terms of specificity, safety and efficacy. To address this unmet need, large pharmaceutical companies such as Merck and Pfizer and some smaller biotech companies are racing to develop small molecule drugs designed to treat COVID-19.
EDDC believes that the 3CLpro inhibitors they identified have the potential to be used in combination with the small molecule inhibitors being developed against other SARS-CoV-2 targets, such as the virus's RNA polymerase. This would pave the way for a cocktail of antiviral drugs that attack different parts of the virus, which may offer a more effective treatment for patients.
EDDC's compounds are currently in the preclinical phase and clinical studies in humans have not yet started. The Centre hopes to out-license or co-develop its lead series of proprietary 3CLpro inhibitors with a partner that can expedite development of these compounds and bring them to patients. By doing so, it hopes to make effective, orally available COVID-19 treatments a reality as soon as possible.